Scuba Diving Key West is one of our best dive sites in the world
The southernmost part of the continental United States Key West is famous for several things, including exceptional diving. A scuba diving trip to Key West is on almost every scuba diver's agenda due to the phenomenal reefs and wrecks found in the waters off Key West.
With a subtropical climate, great weather, and plenty to do outside of the water, it's no wonder Ernest Hemingway chose Key West as his home. The archipelago is a little piece of paradise nestled at the southern tip of the United States.
You can visit and dive in Key West all year round, although the weather can be more unpredictable during the winter months with rough seas and wind. Water temp drops in winter to 75f/23c, requiring a thicker wetsuit. During the summer months, conditions are ideal both above and below the water, with water temperatures reaching a balmy 85f/29c. If you love diving, you can't go wrong planning and taking a scuba diving trip to Key West.
Location
Sambos Reef
A collection of reefs separated by large patches of sand, the Sambo; The reef system is one of the most beautiful to see in the Keys. The reef system includes eastern, western and middle parts of Sambo. The Sambo Reef System is part of the Florida Keys National Marine Sanctuary. Thanks to this protection, the reefs of Sambo are home to a wide range of marine fauna and flora and a healthy coral population.
The reefs offer something for every level of diver. Elkhorn and brain coral can be found on the reef, along with turtles and a huge range of reef fish. Looking towards the sandy area, you can often see nurse sharks dozing on the sand.
Eastern Sambo is the deepest of the three, with a maximum depth of 87ft / ~29m. the reef makes for an exciting dive, with lots to see. Keep in mind that part of this dive is completely closed for research purposes and you need a special permit to enter. You can see yellow buoys clearly demarcating the area.
Situated between Western and Eastern Sambo, Middle Sambo is an excellent dive for beginners. The site has a beautiful reef and an average depth of around 35ft / 10.5m. While swimming around Middle Sambo you can encounter many creatures, lobsters and the occasional tarpon lurking around.
Western Sambo is another shallower dive with a maximum depth of 30ft/10m. the reef is home to a wide variety of corals including brain, elkhorn, boulder, leaf and branch corals. The site is vast and you can do several dives there. One of the most interesting parts of Western Sambo is the area known as the Cannonball Cut. Here you can find plenty of lobsters hiding under outcroppings and tug wreckage. If you're planning a scuba diving trip to Key West, you won't go wrong adding Sambo Reefs to your itinerary.
Joe's tugboat
Another popular wreck dive in the Tug Keys Joe is open to all levels of divers. The wreckage lies upright at 65ft / 19.5m. The 75ft / 22.5m shrimp boat was first sunk in 1986 but was refitted, cleaned and prepared to become an artificial harbor before being sunk again. Unfortunately, the wreck was damaged by hurricanes. The wheelhouse was ripped out by Hurricane George, while in 1999 Hurricane Irene broke the ship in two.
With a shallow depth, the wreck is ideal for all levels of diver. Although not the most exciting wreck for wreck diving enthusiasts who love nothing more than going deep into the bowels of sunken ships, Joe's Tug is still an amazing dive due to of the wide range of marine life found there.
There are lots of corals and sponges embedded in the wreck, and while swimming you can encounter crabs, lobsters and many other creatures. The wreck is also home to large moray eels and barracudas.
Cayman Salvage Master
Another artificial reef and one of Key West's best scuba diving sites, the Cayman Salvage Master is another interesting wreck dive site and one of the best opportunities to dive the goliath groupers and large moray eels that inhabit the wreck.
The 180ft / 56m vessel initially sank in Key West Navy Harbor but was refloated, cleaned and prepared to become an artificial reef. Intended to be a deep reef set in over 300ft/90m of water, fate had other ideas. On her way to her final resting place, one of the cables towing her snapped, and she fell into just 92ft/28m of water, and a new wreck was born.
Lying upright, the deck of the Cayman Salvage Master is 60ft / 18m. the currents at the wreck are unpredictable and can be strong enough to make it impossible to dive. However, once on the wreck you are greeted by a rich marine environment and interesting marine history. If you want to explore the wreck a bit, you can find the engine room at a depth of 80ft/24m. due to conditions, the wreck is only open to advanced and technical divers.
A large number of species call the Cayman Salvage Master home. While diving on the wreck, you may encounter octopus, silversides, large moray eels, as well as loggerhead turtles and goliath groupers. If you are visiting the Cayman Salvage Master on your next Key West scuba diving trip, it is advisable to go with someone familiar with the wreck as it can be a difficult dive.
Scuba Diving Key West Legend The Vandenberg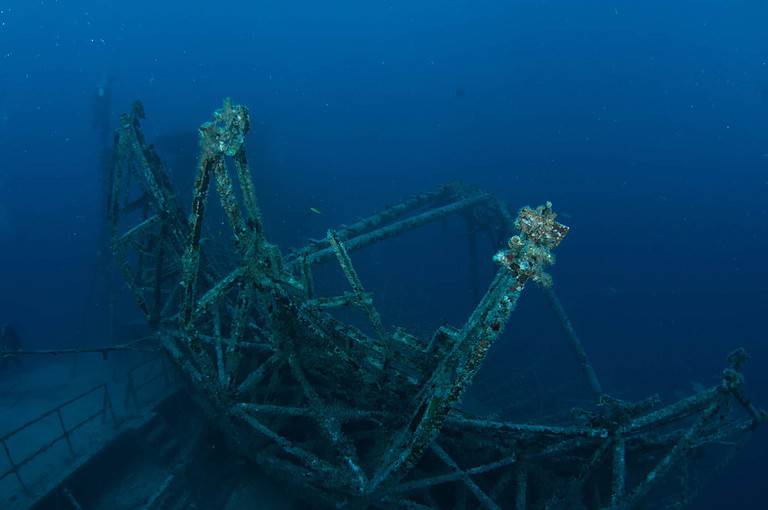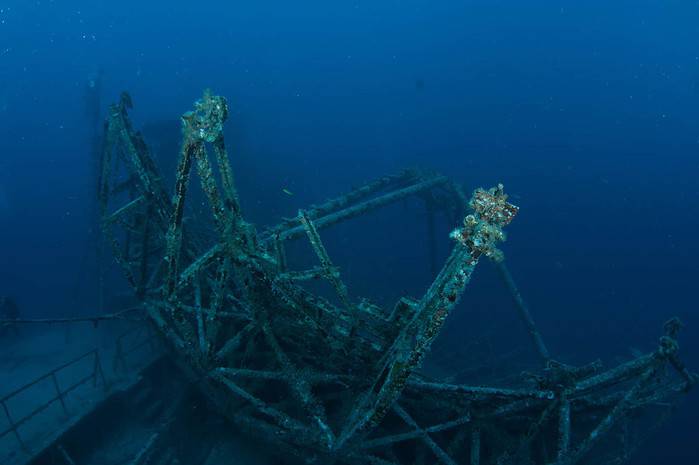 The crown jewel of scuba diving in Key West is the now legendary General Hoyt S. Vandenberg. This gigantic missile pursuit vessel was sunk in 2009 to create the second largest artificial reef in the world.
The numbers around the Vandenberg are truly fascinating. She measures a whopping 522ft/160m and sits totally upright on the seabed at 165ft/50m. while the main deck of the wreck is at 100ft/30m, the best action is on the radar antennae mounted on the superstructures around 60ft/18m.
During its service, the Vandenberg was equipped with state-of-the-art radars to track, among other things, space capsules from the Gemini, Mercury and Apollo programs. These dishes dotted across the superstructure are fascinating to explore and provide incredible photo opportunities at the Vandenberg.
Since its sinking, the wreck has become host to a large number of marine species, including Goliath groupers, Nassau groupers, barracudas and sharks. These can be found along with the usual smaller marine life like octopuses, damselfish wrasses and parrotfish.
As you can imagine, it takes time to explore the Vandenberg for a wreck of its size. So, if you plan to dive the wreck on your next Key West scuba diving trip, be sure to schedule several dives at this world famous wreck dive site!
Click here for more of the world's best dive sites
Presented by


Our Top Dive Sites of the World guide is brought to you by Suunto. We recommend using a Suunto dive computer scuba diving or snorkeling at one of these dive sites. Suunto is the world's leading designer and manufacturer of dive computers providing dive instruments for recreational, technical and freediving. You can learn more about Suunto.com.