Photos and reflections on the Paddle Expo 2012 in Nuremberg from a sea kayaking perspective.
An apt description of the developments in sea kayaking at the 2012 Nuremberg International Paddle Sports Fair is "Evolution and Refinement". The sea kayak exhibitors did not bring real sensational novelties, but they showed a constant development of their ranges. The main trends of recent years have continued:
Good fit for every paddler -> most new kayaks come in several sizes (low, medium, large volume). And, unlike a few years ago, the smaller variants aren't just simple scaled-down versions of the larger ones, but often offer a completely redesigned hull and deck plan.
More specialization on the intended use -> manufacturers optimize the characteristics of boats for specific uses: for example playful, manoeuvrable and stable kayaks for playing in difficult conditions (surfing, rock jumping, tidal races) and faster and better tracked kayaks for hiking.
Composite kayaks with a lay-up dedicated to the intended use -> different materials and production techniques to create high-tech heavy-duty constructions for kayaks used in difficult conditions or lighter and stiffer constructions for kayaks more geared towards speed.
Growing availability of refined sea kayak designs in thermoformed (ABS, Prilite, etc.) and rotational molded (PE) constructions.
A "revival" of long and narrow kayaks for fitness-paddle and sea kayak racing -> closed cockpit kayaks with a hull design inspired by surf kayaks.
Below are some photo impressions and the corresponding thoughts and comments.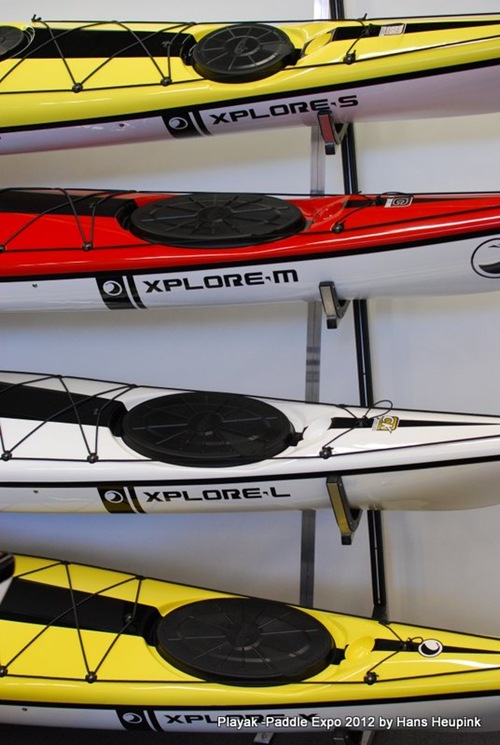 the Tiderace The kayak line is grouped into three design families: Touring, Play and Racing, all of which are now available in multiple sizes. New for 2013, but unfortunately not present at the show, is the Vortex. This is Tiderace's first rotomolded (RM) sea kayak. It is a short, agile and stable sea kayak designed to "play the sea".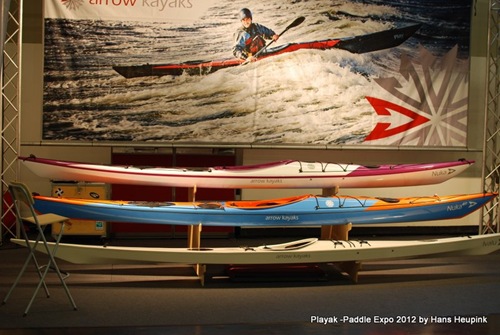 the Arrow Nuka is the little brother of the Play models. Nuka and Play are both kayaks designed for maneuvering and playing in the sea and also provide a good platform for day trips or longer overnight getaways. The new GT is a touring version of the Nuka. It has a different deck line layout. The rear hatch is oval, which makes it easier to load the kayak. The GT's hull is geared more towards speed with less rocker and a smoother bilge and a slightly longer waterline.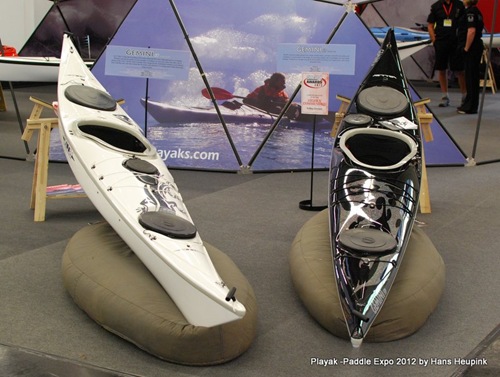 Valley has added 2 short kayaks (14ft 10in) to its line of sea kayaks. The ST&SP Gemini Twins are developed as a pair of kayaks with different characteristics. The ST is designed as a short boat that handles like a longer sea kayak but is easier to handle out of the water. The SP optimized for performance in rough waters with increased rocker, larger bow volume, harder chines, a flatter mid-hull cross section and a more solid lay-up.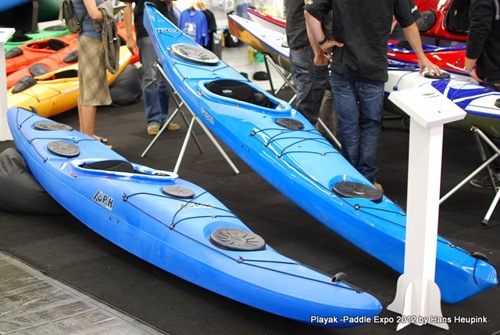 New P&H Hammer is touted as a new generation of marine game boat "… which will take sea play to a new level. The influence of the whitewater bodies of Pyranha (the owner of P&H) is evident. The Hammer is a modern and welcome reincarnation of the old-fashioned '80s whitewater kayaks and must be great fun paddling through rock gardens, tide races and surf areas!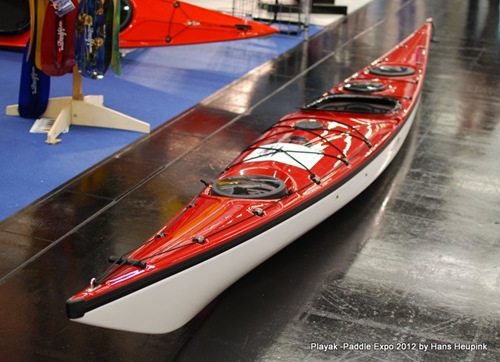 New Eddyline Raven, designed by ACA L-5 Coastal Kayak Instructor Chris Mitchell, features a sloping bow and stern, hard chines amidships and well balanced to provide a "neutral" trim, creating a boat that should be. quick and clean handling in all conditions. Like all Eddyline kayaks, the Raven is made from Carbonlite 2000, an extremely strong, high performance co-extruded plastic laminate, but it is also easy to repair in the event of an accident.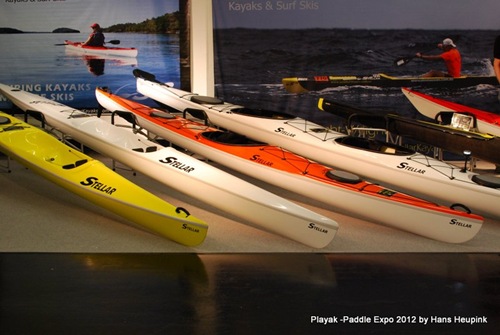 Stellar kayaks from China is known for a wide range of speed oriented surf skis and touring kayaks. For 2013, their range is enriched with more "British Style" sea kayaks, fitted with a fin and a stable and manoeuvrable hull.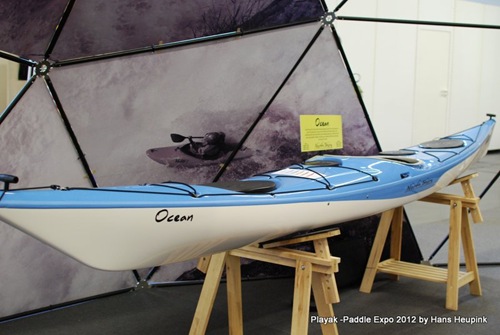 the the north coast Ocean is a brand new design from Mike Nelson. The Ocean is just as versatile and practical as North Shore kayaks are traditionally. But forward speed is improved by a completely new hull design with unique wings; sharp edges that stop just behind the seat and slowly blend into the arch.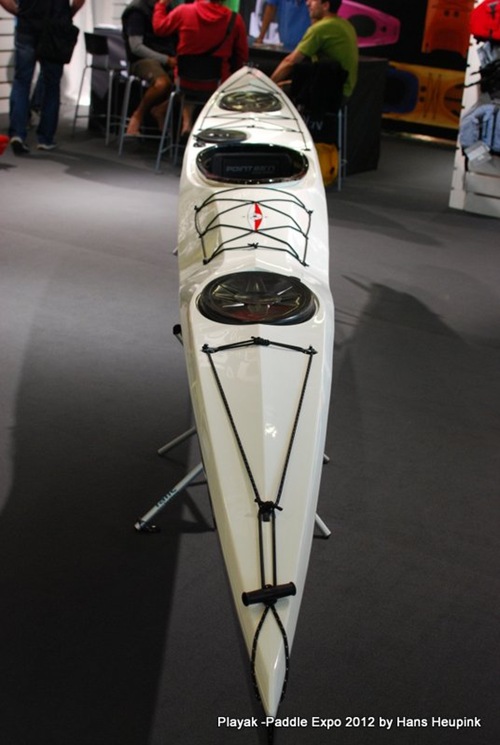 Point 65 showed a production-ready prototype of the "Freya". This kayak is custom designed in collaboration with Swedish designer Magnus de Brito for the second leg of Freya Hoffmeister's expedition to South America. It is designed to consume miles of paddling with ease and speed while still being safe, comfortable and stable in the toughest and scariest conditions. While there is some optical resemblance to the Point65 XP18 touring kayak, the Freya is an all new design with a hull shape that approximates Epic's Surf ski – the Bourbon Orca.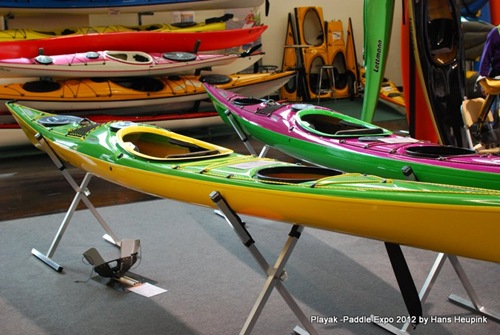 The Biskaya is the latest sea kayak from the German producer Lettmann. The kayak is available in several volumes (and very bold colors) and equipped with the latest version of the continuously optimized Lettmann Ergo Rudder / Skeg system.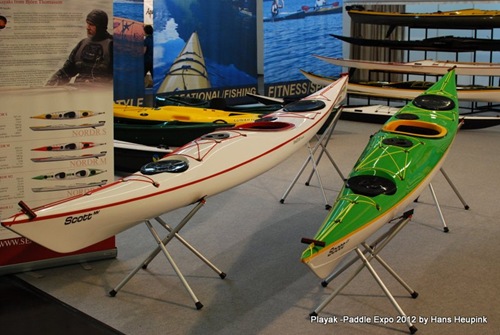 Seabird now cooperates with Rob Feloy (the designer of the legendary Inuk fast sea kayak). The new Seabird Inuk was not yet ready for the show, but the surprise on the Kanumesse were two new kayaks designed by Rob: the Scott MV and the Scott LV, lovely British style kayaks.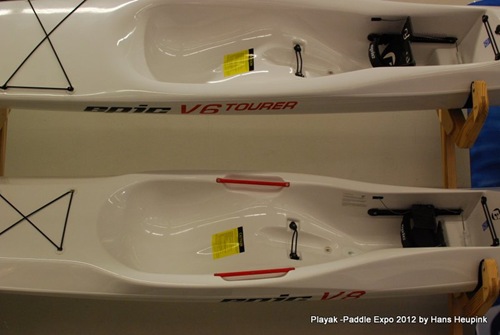 Oscar Chalupsky was present at the Kanumesse to promote the growing range of Epic surf skis. The Epic V6 and V8 bridge the gap between touring or sea kayaks and surf skis.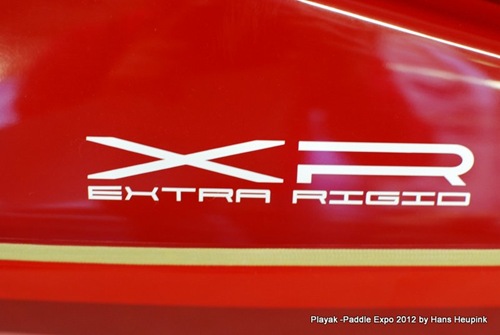 As an example for the different constructions offered by many manufacturers: Skim Kayaks are available in 3 different lay-ups: TR-Traditional lay-up (Polyester / Diolen and fiberglass), XR-Extra Rigid (Vinylester / carbon / Kevlar / glass fiber and diolen) and CL-Carbon light (sandwich shell made of carbon fiber with diolene resin with a bridge constructed of fiberglass and vinyl ester). The XR is stronger than the TR and the CL is just as strong as the XR but still lighter. A kayak that weighs 25 kg in TR, 23.5 kg in XR version and 21.5 kg in CL version. The costs go the other way up.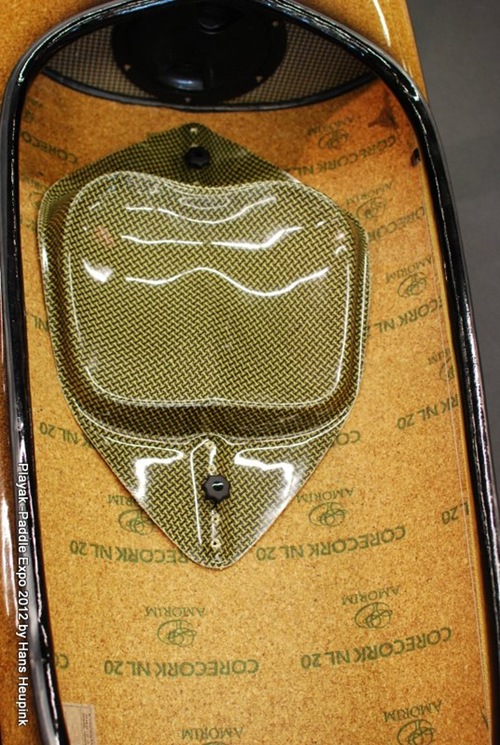 Neumann kayaks presented a range of cork core kayaks: very light and very strong in a fascinating glossy finish. Willy Neumann tried to convince the public of the solidity of this construction by jumping with all his weight on the deck of one of the fast, elegant and ultra-light Neumann fitness kayaks.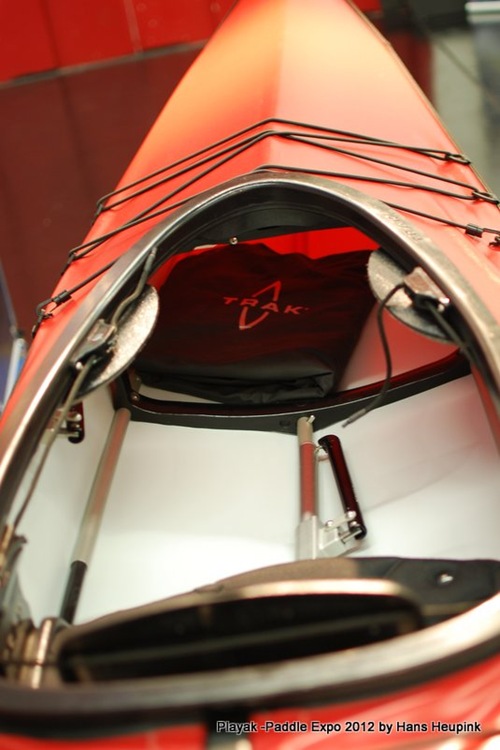 the Stage fright The folding kayak is not new, but it is regularly developed in details.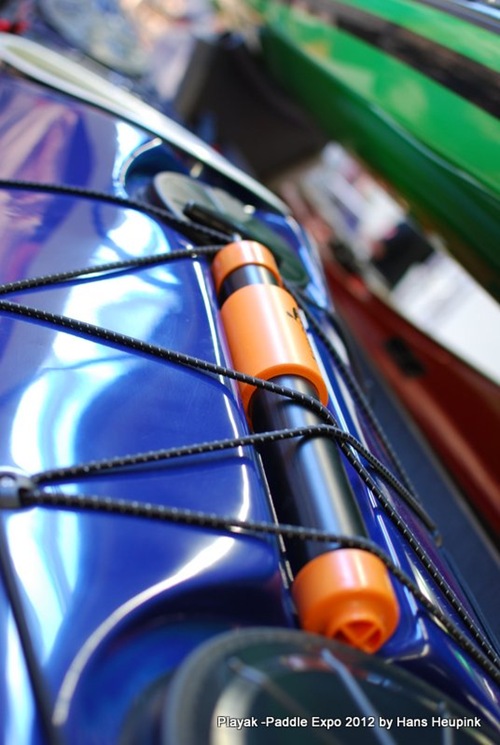 Pay attention to details about it Skim Kayak with a deck recess where a bilge pump fits well.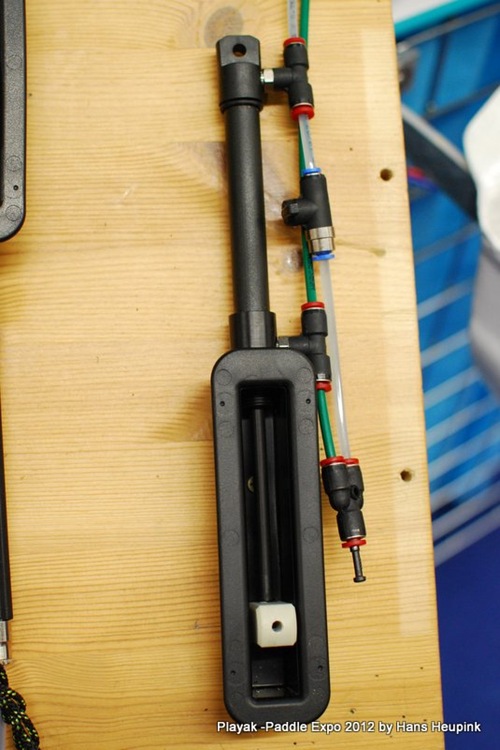 Geoff Turner, the man behind the Kari-Tek products, showed further refinement of the ingenious Kari-Tek hydraulic rudder system, which is now made entirely from ABS material, making it lighter and completely resistant to corrosion.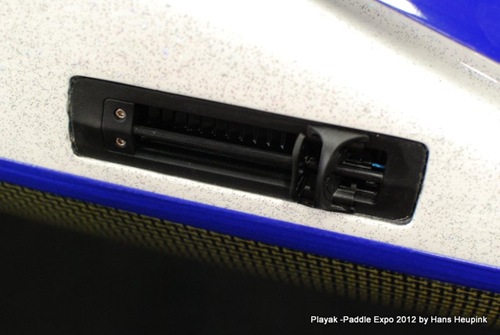 P&H completely overhauled their fin system for 2013. There were quite a few issues with the first generation with this system (introduced in 2009), which has been improved over the years and while paddlers with issues were still taken supported by P&H. In the second generation, the cursor has a smoother and more intuitive action and can be more easily maintained to keep the action working consistently.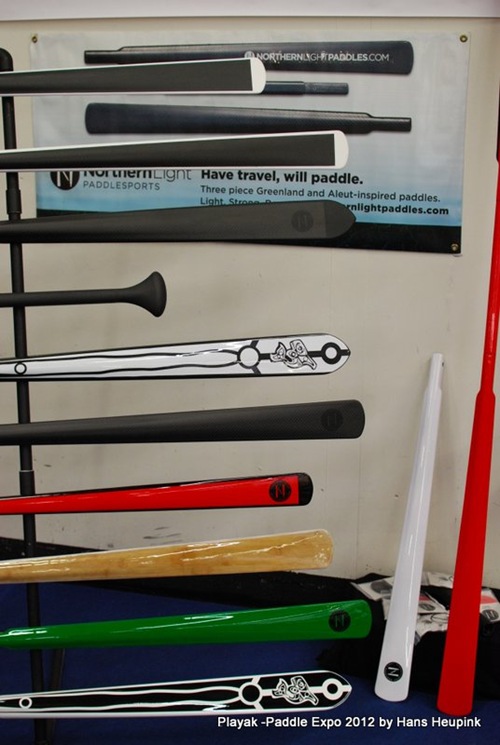 Northern Lights paddles was present at the show with a very colorful variation of their Greenland and Aleut modular carbon fiber paddles. The three-part modular system allows Northern Light to scale the paddles to match the central loom. It also offers the possibility of assembling the paddle (without the central loom) as a short "Storm" paddle.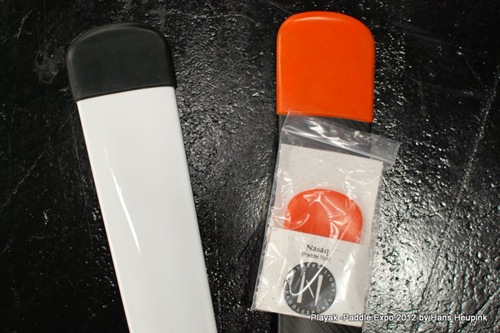 Nasaq, by Northern Lights paddles, is a paddle tip cover made from a special formulation of UV resistant silicone and urethane that stretches and conforms to the shape of the paddle tip, and provides a layer of protection against water damage. chipping, fraying or abrasion for those who paddle, land or launch difficult beaches or ramps. The Nasaq is available in multiple colors and will fit most Greenland style paddle tips.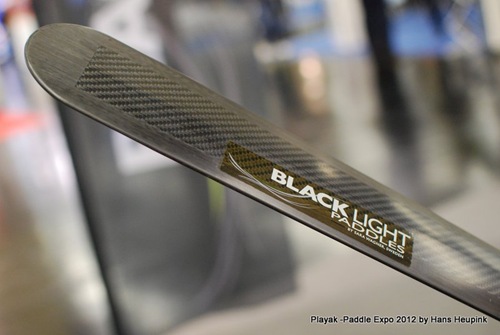 Black light paddles manufactures fantastic high tech carbon Greenland paddles with ultra thin blades and a sensational light weight of 550 grams. The standard Black Light paddle is strong enough for expedition paddling, but requires careful handling. For real rough stuff there is now the "Black Light Greenland Rough and Roll", just as thin but in a more solid layup, with reinforced edges and blade tip. It weighs 700 grams.
For Playak,
Hans Heupink
See also:
Source link